Ten years ago today, February 27, 2006, my grandfather William Watson passed away at the age of 89. He was predeceased by my grandmother, Marie Woods Watson, by almost 2 years. They were married in 1941.
The family business had been printing: William J. Keller Press of Buffalo, New York. Earlier in life, they had been book collectors, frequenters of the Grosvenor Library reading room on Main and Edward Streets in Buffalo, and founding members of the Salisbury Club of Buffalo, a meeting of bibliophiles and book artists. The Salisbury Club produced several fine books on subjects important to writing, printing, and the arts in, or with a connection to, Buffalo. Marie and Bill produced those books at their own "Easy Hill Press."
When they retired they became, essentially, "artists in residence" at the Paradise Press in Buffalo. Paradise had been the shop of Emil Georg Sahlin, himself a student of the inimitable Roycrofter, Elbert Hubbard. One of Sahlin's students was Hal Leader, who would become the owner of Printing Prep in Buffalo, an industrial-scale printing operation. In one corner of the Printing Prep offices, on the corner of Main and W. Tupper, Hal maintained Paradise Press as a working letterpress shop open to those who would use it. And Bill and Marie used it. For more than 16 years.
From 1990 until 2006, Bill and Marie, and then Bill alone or with me/friends, produced three or four "keepsakes" a year at the Paradise Press. These trifold pamphlets comprised quotations, pithy sayings, and artful engravings usually around a theme, but also always somehow about reading, theatre, and good books. Bill and Marie culled quotes from books and dictionaries in their own collection as well as from the Orchard Park town library, and the central Buffalo and Erie County Public Library. They wrote their favorite quotations down on index cards and shuffled them into thematic groupings, arriving finally at those that would comprise the upcoming keepsake. They selected wood engravings from their favorite engravers – usually Thomas Bewick or Reynolds Stone – to accompany the text. Sometimes they ordered new metal engravings to be made based on photocopies of originals. Other times they worked from originals in their own collection. Bill set all the type by hand at Paradise, pulled proofs for Marie to correct, and together they edited the proofs and corrected the type. They pulled the impressions on a Vandercook proof press, what they called "the venerable Vandercook," and then distributed the "mailer" or "keepsake" to a list of about 100 family members and friends. Though some great admirers of their artistry tried to pay Bill and Marie back through a "subscription," they refused. They did finally, however, agree to accept honoraria in U.S. postage stamps.
The keepsake themes included live theatre, the art of wood engraving, good books, education, writing, food, travel, and sport. Some – theatre, writing, printing – were so important to them that they were repeated thematically, though with different content, several times. The very first mailer, in March of 1990 was "A Garland of Shaw," focusing on quotes from their favorite playwright, and the writer at the center of their beloved Shaw Festival. The last, typset by Bill but printed by myself and Hal Leader, in February of 2006 was on "The Theatre," and featured an engraving of Shaw on the cover.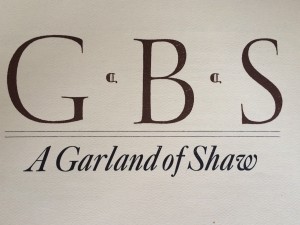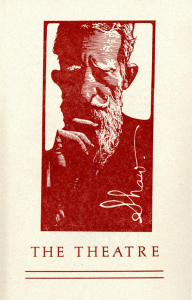 At the heart of the keepsakes, however, are the hundreds of short quotes they copied, selected, and printed. As I was thinking about how to commemorate the 10th anniversary of Bill's death and the circulation of the last keepsake, Bill and Marie's commitment to the brevity and power of the pithy quote kept suggesting itself to me as the place to engage. I have been thinking about how these short yet powerful lines, these beautiful images, have changed meaning over time and survived their mortal bodies as a form of evolving communication between us.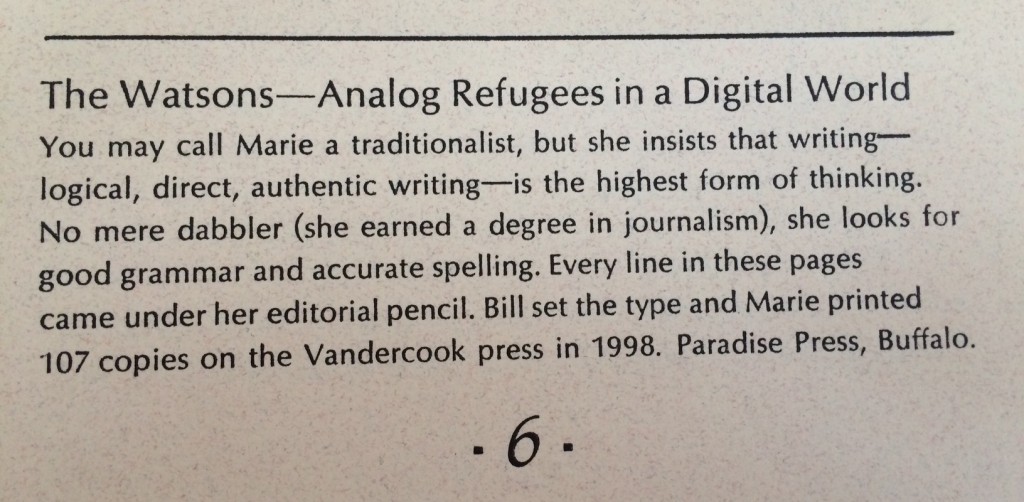 And so, though they described themselves in 1998 as "Analog Refugees in a Digital World," I thought it might be interesting to remediate and recirculate their work in today's medium of short but powerful word and image mashup: twitter. Each of their little quotes contains fewer than 140 characters, usually. And "characters" is an important metric for tweeters and typesetters alike. In twitter the "spaces" count just as much as the letters. So too in the composition stick.
As a memorial, I am going to make an effort to mark the passing of time by slowly tweeting out into the world 16 years worth of quotes and engravings. They'll be compiled not in the Hollinger box where I keep my originals, but at the hashtag: #TweetsFromParadisePress. As a printer – printers have long had a hard time calling themselves artists – and a user of social media, I'm eager to mash up the analog and the digital anew. To see what happens when I juxtapose the way my grandparents used shortform with the way I do. To bring their work into a medium for which it wasn't created, but with which it shares much. But most of all, and all accounts, to circulate these words and images again. To make them move about the world again, for the first time in a decade.